Bolognese kennel (FCI)
---
Bolognese puppies
On 13th of May 2022 in our bolognese dog kennel "Maty Ve Maria" were born puppies - 2 girls and 2 boys. Mum and puppies are in good health. Mother Janette Maty Ve Maria, father Bastien Bel Diamond.
Puppies are with FCI pedigree only.
FCI Pedigree is guaranty, that from the puppy will grow up adult dog of this breed.
Puppies will go into new homes, when they are a least 9 weeks old. Our females and puppies are fed by superpremium food. You will take a puppy from our dog Bolognese kennel with the purchase agreement, FCI Pedigree, vaccinated, dewormed, chipped, with a passport and a start puppy package.
---
Puppies from previous litters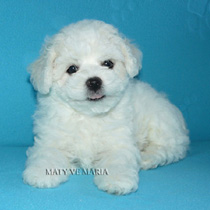 ---
Contact - Julie Kozlová, mobil: +420 732 559 693, email: matyvemaria@gmail.com
All photos and videos embedded here are protected by copyright law. Author pages Julie Kozlová © 2011
Bolognese kennel © Maty Ve Maria 2011